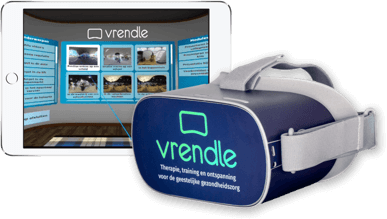 Wireless and simple
More than 140 unique training courses
Watch with any mobile device
Access to a large community
Get Vrendle now
Only 99,- per month
One-off 449,- for Oculus Go (VR Headset) including installation
Start using Vrendle now?
Let's connect! Get in touch with us and we will help your organisation to integrate and implement virtual reality - from start to finish
CONTACT US NOW!
Virtual Reality platform
Agoraphobia
Fear of crowds? Practice in a safe environment with Virtual Reality, visit several crowded places.
Lees verder
Fear of the doctor
In this therapy video, patients learn to cope with fear of the doctor and fear of blood tests.
Lees verder
Fear of driving
Overcome your fear by taking a ride with our Virtual Reality driver.
Lees verder
Fear of public transportation
Therapy video in which patients learn to cope with a large group of people in a small space: the bus.
Lees verder
Fear of shopping
Learn to control your fear of going to a supermarket in several steps.
Lees verder
Aggression regulation
In aggression regulation therapy, you virtually learn how to respond differently to an approach.
Lees verder
VR-party
Overcome your fear of parties and other social occasions with virtual reality.
Lees verder
Empathy training for eating disorders
Empathy training to achieve understanding and empathy for people with eating disorders.
Lees verder
Empathy training for dementia
During this empathy training, patients experience what it feels like to live with dementia.
Lees verder
Empathy training for divorce
Experience a divorce conflict through the eyes of a child.
Lees verder
Ambulance experience
Compelling ambulance experience for perception and training.
Lees verder
ADHD
Experience having ADHD to achieve understanding and empathy for people with ADHD.
Lees verder
Short track speedskating
Get the chance to fly through corners on skates at 50km/h in the Thialf ice arena.
Lees verder
Swimming with dolphins
Escape the daily routine by swimming with wild dolphins.
Lees verder
Nature video's
Relax with our selected nature video's. Visit the countryside, a peaceful lake, a forest or travel to Malta.
Lees verder
Mixed Martial Arts
A pre-study for the aggression regulation video.
Lees verder
Festival
Never been to a music festival? Experience the crowd at Lowlands!
Lees verder
Relax in Madurodam
Visit the Madurodam theme park and relax to the max!
Lees verder
Create treatment videos?

Petra Fokkema
Cognitive behaviour therapist
"Virtual Reality Exposure Therapy (VRET) makes controlled practice of coping with frightening situations possible in a familiar environment."
---
Increase courage and self-confidence

Clients report an increase in courage andself-confidence when subjected to their fears. VRET consequently removesbarriers for further exposure exercises.

Efficiency

Clients can practicemore, in less time. There is more time to directly experience the exposureexercises rather than primarily talking about the exercises.

Overcome fears


Angstige mensen hebben de neiging om situaties die ze eng vinden te vermijden. Bij alle soorten angst, komt vermijdingsgedrag in meerdere of mindere mate voor.
Treat clients in a trusting environment
Virtual Reality (VR) brings the outside world to the trusting enviroment of your treatment room.
Our immersive experience makes various situations and locations seem real. We provide lifelike experiences for therapy, training and relaxation.
How does it work?
Contact
We would like to get in touch with you. Whether it's content creation, Vrendle, the supply of hardware or advice: we are at your service.